1. Dental Bridges
Bridges are dental prostheses that join an artificial tooth permanently to adjacent teeth. Dental Bridges last an average of ten years.
| | | |
| --- | --- | --- |
| Fixed Bridge | The "Maryland" Bridge | The Cantilever Bridge |
| | | |
| This procedure is the most popular to replace one or more missing teeth. It consists of one or more pontics to hold in place by adjacent teeth. | This procedure is used to replace front missing teeth. It consists of one pontic to be attached to metal bands that are bonded to the surrounding teeth. | This procedure is often used when there are adjacent teeth on only one side of missing tooth. A typical three-unit cantilever bridge consists of two crowned teeth next to each other on the same side of the missing tooth space. Then, the filler tooth is connected to the two crowned teeth, which extend into the missing tooth space or end. |
Dental Bridges Procedure
Step 1: The procedure starts with preparing those teeth to be capped. Impressions are taken, and a temporary bridge is put in place while the permanent bridge is fabricated.
Step 2: When the patient returns, the temporary bridge is removed, and the permanent bridge is fitted and cemented into place on the tooth. Finishing up with quality assurance check for any re-adjustments or re-works of the dental bridge.
Care for Dental Bridges
Brush and floss as recommended by your dentist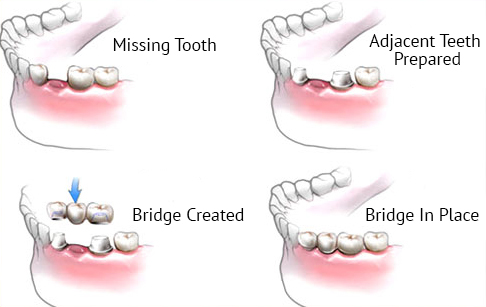 2. Dental Crowns
Fixing your smile with Dental Crowns!
Reasons for Dental Crowns
1.Protection – Crowns protect decayed, weak, or cracked teeth from further damage
2.Restoration – Crowns restore function and aesthetics to broken or severely worn teeth
3.Support – Crowns can support a tooth with a sizeable filling
4.Replacement
Crowns can serve as anchors for dental bridges to replace missing teeth

Crowns can also cover dental implants, a permanent tooth replacement solution
5.Aesthetics – A discolored or misshapen tooth can be improved with a crown

Step 1: The dentist will reshape your natural tooth to fit the new dental crown. Then, an impression will be taken and sent to the lab where the new crown will be fabricated which normally requires 5-7 days. A temporary crown will be placed on while the permanent crown is being made.

Step 2: The dentist will remove your temporary crown, and the permanent crown will be fitted and cemented into place.

Step 3: Please brush regularly two to three times a day and floss at least once a day to maintain your beautiful smile.
Care for Dental Crowns
Using an antibacterial mouth rinse

Eating a healthy diet and avoid smoking

Visiting your dentist on a regular basis

Brushing your teeth twice a day

Flossing your teeth once a day
This case shows the replacement of old amalgam fillings with porcelain crowns.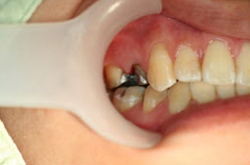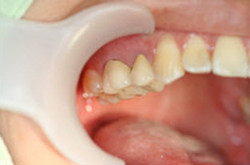 Delaying treatment for your missing tooth may lead to further problems including uneven wear on your healthy teeth and bone loss or degeneration. It may be tempting to postpone the decision but we don't recommend waiting.