1. Teeth Whitening Treatment at Home
Whitening your teeth at home is the safest and easiest way, as it will provide long-term effective results. Before bleaching your teeth, you need to make sure that you have a healthy mouth without tooth decay, periodontal diseases or infections. In other words, these dental problems should be treated by a dentist prior to whitening treatment.
How to Whiten Your Teeth?
The dentist will mold your teeth to create whitening trays and arrange an appointment for you to pick the trays and whitening gel up. The concentration of the whitening gel varies based on the dentist's recommendation.

Apply the whitening gel of approximately the size of 3 match heads to the trays.

Rinse your teeth with dampened cotton wool or gauze pads. Position the trays over your upper and lower teeth. The whitening trays should be properly stored after use in the tray holder provided by the dentist. For the whitening gel, it should be kept in a fridge. The remaining gel on your teeth can be wiped with dampened cotton wool or gauze pads.

Whitening treatment should be done before you go to sleep. You should not speak while the trays are in your mouth. The trays should be worn for 30 minutes or overnight and removed in the morning.

Clean the whitening trays; dry and store them in the tray holder. You can brush your teeth as usual.

Tooth sensitivity is common after bleaching your teeth and will be less when the time has passed.

If you have experienced severe tooth sensitivity, the dentist will provide you desensitizing toothpaste, which can be used instead of regular toothpaste. The dentist may also give you concentrated desensitizing gel. Apply the gel to the whitening trays and bite them for 30 minutes or up to an hour. Clean the trays after use and rinse your mouth with water or simply brush your teeth as usual.

If you are still experiencing tooth sensitivity, it is recommended that you see your dentist for further advice.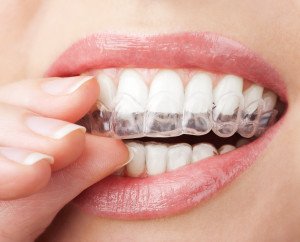 2. ZOOM! Teeth Whitening
Your whitest smile in one visit! You can get a whiter, healthy and youthful smile with ZOOM! Teeth Whitening system in 45 minutes. At Pacific Dental Care, we have selected the scientifically advanced ZOOM!, the world's premier teeth whitening system that is effective and clinically proven to be safe with fast results. Feel good and look great with ZOOM! It's the perfect choice for you!
What is the procedure of ZOOM! Teeth Whitening?
First, the dentist will cover your lips and gums and leave only the teeth exposed. Then, the dentist will apply a whitening gel (hydrogen peroxide), which is especially designed to work with the Zoom2 blue light to activate the process. The gel will gently penetrates your teeth enamel and break up stains and discoloration. There are four sessions in the procedure and each session takes 15 minutes. The whole procedure takes about 45 minutes.
*Please be informed that all patients must be cavity free and required a teeth cleaning before the procedure
How long do the Results last?
By following some simple after care instructions, you will be able to maintain a lighter teeth color than ever before. To keep your teeth looking their best, we recommend flossing, brushing twice daily, regular dental cleaning, and occasional touch-ups with our ZOOM! Take-home gel. These are professionally formulated products designed specifically to keep your teeth their brightest.
ZOOM! Teeth Whitening system will be able to change your teeth color from dark shade to a brighter shade. You will see immediate results and white speed makes a dramatic difference in just one office visit.