Kids Care (Pediatric Dentistry)
Pediatric Dentist Team
Pacific Dental Care has pediatric dentists everyday from Monday to Sunday who specialize in infants, children and adolescents. Our pediatric dentists provide an advice regarding the constant changes in your child's teeth, treatment and instructions on good dental habits including proper care and brushing in order to maintain healthy smile. Since our dentists are trained to respond to the individual emotional needs of each child, our dentists will be able to provide emotional comfort and preparation for both our young patients and their parents.
Pediatric Services
Cleaning & Fluoride Application

Sealant

Filling

Root Canal Treatment

Crown

Extraction

Orthodontics (Braces)

Cosmetic (for gaps, chipped, broken teeth)

Oral Facial Trauma Caused by Accidents

Customized Sports Mouthguards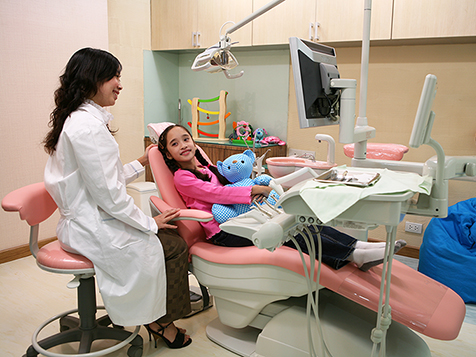 Cavity Prevention
Fluoride application
Fluoride application can strengthen the teeth and prevent cavities. Our pediatric dentists recommend patients to apply fluoride application every 3-6 months to maintain their healthy smile.
Sealant
Sealant is a material which fills on the chewing surfaces of the teeth as well as small gaps between the teeth. This can prevent food particles that get caught in the teeth which can be difficult to remove by brushing alone. Sealant can make the teeth easier to brush and can prevent cavities. Most importantly, the application is fast, comfortable and can effectively protect the teeth for many years.
If Your Child Cries…
Remember! Our pediatric dentists have been trained to provide emotional comfort for each child.

Allow your child to see, touch and operate dental equipment will make them feel secure and ease anxiety.

Allow the dentist to talk to your child directly.

Our dentists may want to handle the situation without your presence in the room. You may be asked to leave the treatment room during the procedure.
Your Child's First Visit to the Dentist?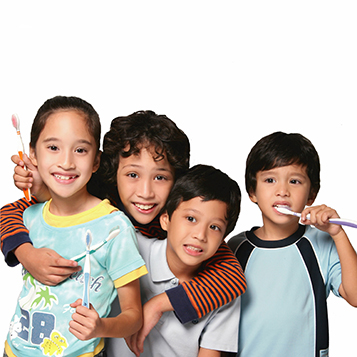 Don't worry! We are the experts! We have prepared some tips and rules for you as a parent to be able to participate in your child's first visit to the dentist.
Have a positive attitude; keep the visit normal, routine and pleasant

Let your child observe you brushing your teeth

Read stories about going to the dentist to your child

Pretend to be a dentist and explore your child's mouth, then switch roles

Arrive early for the appointment so your child can walk around, meet our staff, play in our "Kids Zone and get familiar with the new environment"

Don't describe treatments too much in detail or use negative words like pain, drill, etc., our dentists have special ways and words to explain to children so they are not scared.

Let the dentist know any medical problems or allergies your child may have
10 Ways to Protect Your Child's Smile
Take a look at your child's mouth frequently
If you see any white or brown spots/marks on your child's tooth, please have the dentist look at it immediately.
Arrange for a check-up
Your child should visit the dentist as soon as the first tooth appears. A check-up every 6 months is recommended in order to maintain the healthy smile.
Protect teeth with fluoride
Our dentists recommend patients to use toothpaste that contains fluoride and applies fluoride applications every 3-6 months in order to strengthen the teeth and prevent tooth decay.
Brush your child's teeth
Brush your child's teeth 2-3 times a day after meals. A toothbrush will remove plaque and bacteria that can cause tooth decay.
Avoid sweets
Limit servings of sugars and starches such as sweets and fruit juices and try to consume fresh vegetables and fruits instead.
Avoid nursing your child to sleep
Since the sugar content is in the milk, which can cause tooth decay, replace milk with water at the end of each feeding and avoid sweetened drinks in the bottle especially before bedtime.
Stop bottle-feeding at the age of 1
Try to introduce your child to the glass or cups at the age of 6 months and start drinking milk from a glass/cup by the age of 1.
Teach your child how to brush teeth
The best way to teach a child proper oral health care is to set a good example. Use a small amount of fluoride toothpaste and allow them to watch you brush your teeth.
Beware of accidents
Primary teeth are very important since they are place holders for the permanent ones. We recommend patients to wear a soft plastic mouth guards* to protect teeth, cheeks and gums during sports.
*Custom sports mouth guards are available at Pacific Dental Care
Dental Floss
Do not forget to use a dental floss once a day before bedtime to make sure that there are no particles between your teeth!