What are Dental Implants?
Would you like to smile, speak and eat again with comfort and confidence? There is good news! Dental implants are a permanent replacement of teeth that look and feel just like your natural teeth, which are manufactured from biologically neutral medical-grade Titanium that is long-term research accepted by the human body. Many studies have shown that dental implants are the best and safest permanent solution to tooth loss.
Types of Dental Implants
| | |
| --- | --- |
| Conventional Implants | Conventional implants are almost suitable for everyone who need to replace one, multiple or all missing teeth. Conventional implants require 2 stage installations in 2 separate visits, which are about 3 to 6 months apart. In case of jaw bone loss, bone graft may be required. |
| Immediate Implants | An immediate implant is an implant that is installed during the same trip after teeth are extracted. Bone graft may be required depending on jaw bone condition. |
| Immediate Loaded Implants | Immediate loaded implants are implants that are permanent or temporary crown, bridge or dentures are installed during the same trip when dental implant posts are embedded in the jaw. |

*A panoramic x-ray and CT scan is required to evaluate the amount of bone support as well as determine the space available for implant installation before the surgery.
*Bone graft may be required depending on CT scan.
*ITI Straumann and Astra Tech system are used at Pacific Dental Care
Implants Procedures
Benefits of dental Implants
Improve Appearance

– Dental implants look and feel like your natural teeth.

Improve Speech

– You will be able to speak with confidence in a relaxed and natural tone.

Convenience

– Dental implants allow you to speak and eat with comfort and confidence.

Tooth Saving

– Dental implants do not sacrifice your adjacent teeth like a bridge because neighboring teeth are not altered to support the implant.
Care after surgery
Since bacteria can attack sensitive areas in the mouth when teeth and gums are not properly cleaned, proper oral hygiene such as brush regularly and floss after eating is important. If not cleaned properly, this can cause gums to swell and jaw bones to recede gradually. As a result, the jawbone will weaken the implants and make the implant to be removed. Patients are advised to visit the dentists twice a year to ensure the health of their teeth and implants. Dental implants can last for a long time when given proper care.
Before Implant Installation / Missing Teeth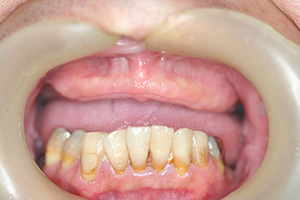 After 6 Implant Installation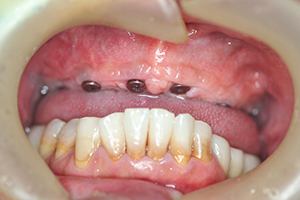 After Abutment Installation (Front View)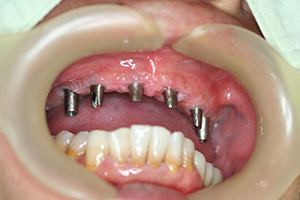 After Abutment Installation (Top View)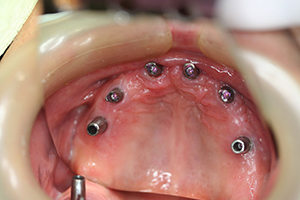 After Porcelain Bridge Installation (Front View)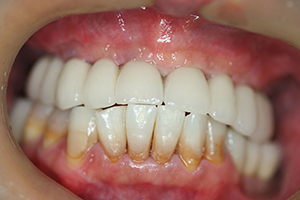 After Porcelain Bridge Installation (Top View)