Are you suffering from jaw pain? If you hear clicking sound when opening and closing your mouth or experiencing headaches, toothaches or facial pain, you might have a problem with your jaw or joint.
Symptoms of the Temporomandibular Disorder (TMD, TMJ)
Popping or clicking sounds in the jaw

Inability of fully opens the mouth

Jaw or joint pain while opening or closing your mouth

Headaches

Earaches

Toothaches

Facial pain
Characteristics of pain
Continue deep, dull ache similar to the discomfort associated with a "nagging" headache

Sharp, brief, shooting pain or feeling numbness in the face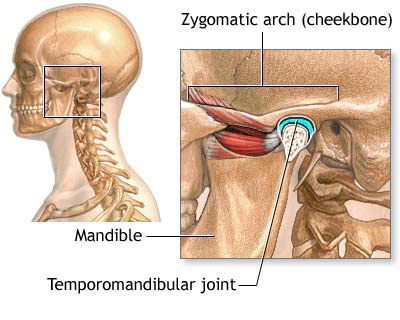 How Can We Treat Jaw & Joint Pain?
Physical therapies and/or bite splint to realign the jaw

Botox

Medications

Surgery in very rare cases
If you have symptoms:
Get an evaluation from a TMJ professional

Eat soft foods

Use both sides of your mouth to chew

Stop gum chewing

Quit fingernail and cheek biting

Reduce stress triggers

Refrain from opening wide when yawning and singing